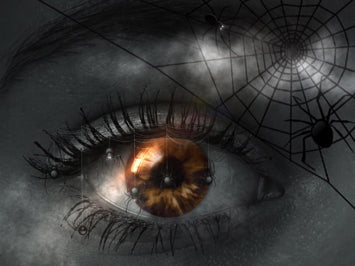 Trick or Treat… Dressing up in costume for Halloween can be very scary…for your eyes!
It's October, the time of year when we love to dress up in costume and make the Halloween party rounds. But with all the fun, serious thought should also be given to safety. Specifically, the safety of our eyes.
The latest rage in costume fashion is novelty contact lenses, spikey falsies (eye-lashes), and the extravagant use of make-up products which can make our eyes subject to tricky and down-right scary conditions.
If you're in the market for novelty contact lenses, be sure to look for those that are FDA approved. Even then, these lenses can be hazardous to the eye due to improper fit, and impaired vision. You see, most decorative lenses are just that. Decorative. They only have a small hole for which to see through, leaving your vision extremely limited. Add darkness to the equation, and you put your self at risk even more.
Lenses that fit too loosely, or too tightly, can be problematic as well. For instance, if the lens 'slips' past your pupil and you try to 'blink' it or 'shove' it back into place, that split second (or longer) can cause distraction, placing you in a potentially dangerous situation especially if you are behind the wheel, or crossing a street. Then there is the risk of damage to your eyeball. Since the eyeball gets all its oxygen from the air as opposed to getting it from the blood, improperly fitted contact lenses can cause oxygen deprivation to the eyeball if the lens is too tight, causing the risk of suffocation to the cornea. Additionally, you can scratch your cornea when trying to remove the lens.
And let's not forget about false eyelashes! These products affix to the eyelid with glue, and if not applied properly, can cause infection and severe discomfort. Not only can false eyelashes 'poke' your eyeballs, but so can Halloween props such as a piece of hay or hanging plastic decorations. Of course, the dreaded light saber can cause damage if aimed at the eye!
While it's fun to get dressed up for Halloween with friends, potential hazards exist when the sharing of eye makeup takes place. You run the risk for infections, sties, corneal ulcers, and irritations. So, do not share eye pencils, brushes, or any other makeup products.

From all of us at Väri Eyewear, have a fun, SAFE, and Happy Halloween!