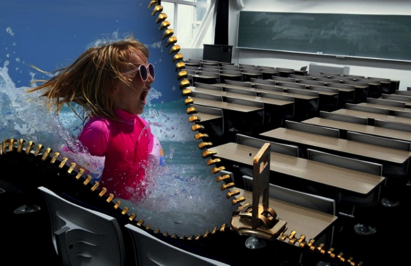 It's Back to School Time… And that means it's time to get focused!
With the lazy, hazy days of summer coming to an end (say it isn't so!), we find ourselves reluctantly packing away the swimsuits and scrambling to get all the back-to-school items and accessories together.
Yes, the school buses will soon be rolling in and the school kids will be heading off to class. They will have to take their focus off the summer fun and put it on text books and homework assignments.

It's ironic, or perhaps strategically planned, that August is Children's Eye Health and Safety Month. It's a perfectly timed reminder to make sure our children are prepared for the school year with a healthy pair of eyes.

For kids (and people under 40 that act like kids), in good eye health, a visit to the eye doctor once every two years for routine testing and screening is recommended. For people over 40, or with any history of eye problems, make sure you see your eye doctor every year.

In this age of convenience, when people shop for everything on line, including contacts and eyeglasses, only your eye doctor can help you identify eye issues early and screen you for serious and sometimes silent problems, like glaucoma, macular degeneration, cataracts, diabetic retinopathy.
On top of eye health, back to school also brings up the importance of eye-protection, as fall sports get underway. Make sure that when you engage in any athletic activity or sports that require protective eyewear, good eye heath is a priority, both on and off the court!
This season, get an A+ in eye health and if you haven't done so already, schedule an appointment with your local eye care professional for your child's routine eye exam. Get them properly fit with prescriptive lenses, if that's what is required, and if needed, tack on some protective eyewear.
Good vision is OPTimal! Remember, education is key and discussing good eye health with your children will not only get them ready for a successful school year, but a healthy one, too!
Guest blog by Jodi Jacobs, Chief Visionary, Crystal Vision Marketing and Marketing Maven for Väri Eyewear