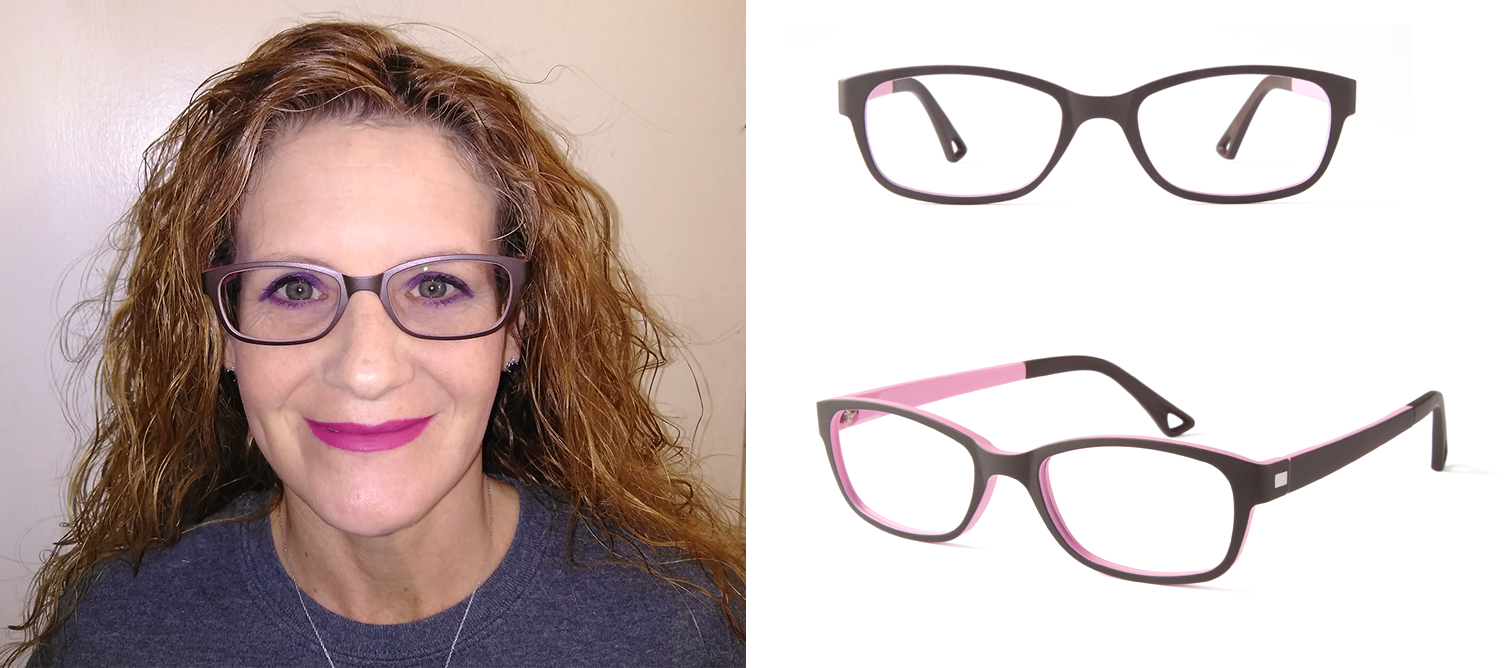 What's Luck Got To Do With It?
So, what's luck got to do with it? Tina Turner may have asked us that question about love before, but this month we're asking it about our frames.

Väri frames are well-known for being the coolest, most comfortable and easily convertible frames and now, we're getting props for safety!
Earlier this month, we received an amazing call from a woman in Tennessee who felt compelled to contact us. She called to rave about our frames, and how LUCKY she felt to be wearing them!

Our new friend, Heather, recently bought her first pair of Väri's about two months ago at The Eye Gallery – Lafolette Eye Clinic in LaFolette, TN. She said they were the second pair of frames she tried on in the store, and she was instantly SOLD! At first, Heather said that she fell in love with the color – our Brown/Pink combo – and then once she put them on she couldn't believe how lightweight, and COMFORTABLE, they were. Heather exclaims, "It was like wearing nothing at all! I almost forgot I had them on. I knew then that these were the frames for me."

But Heather didn't call just to tell us how much she loved her Väri's. She called to thank us for saving her sight, and she shared her story.

Heather told us that she and her boyfriend were driving home about two weeks ago from an afternoon of shopping in a nearby town. The two were in her Pontiac G6 and it was a beautiful, blue sky afternoon. Suddenly, and unexpectedly while on the highway, the car in front of her made an abrupt stop. Heather said her boyfriend hit the brakes and tried to stop, but it was too late. Her car hit the car in front of her and both airbags deployed. Heather's car was totaled.

Thankfully and so very luckily, Heather and her boyfriend emerged from the damaged vehicle both dazed and in shock, but relatively unscathed from the crash.   It wasn't until hours later that Heather started to think about the full impact she had suffered to her face as a result of the deployed airbag. She said, "My mouth hurt, but what was crazy is the fact that my glasses didn't break! I didn't have a black eye, no bruising, nothing. I couldn't believe it!"

Heather is a stay at home mom, a proud mother of three terrific 'kids', and has a new grandbaby who keeps her on the run. She wears her Väri's well and thankfully, she wears them safely! Heather states, "If I wasn't already convinced that these are a great pair of durable glasses, this ordeal has sealed the deal!" We look forward to seeing Heather rock these and more Väri's in the future.

This month, as we celebrate Saint Patrick's Day and reflect upon the luck of the Irish, we can't help but be thankful for the luck that followed Heather out the door after purchasing her first pair of Väri's. We welcome Heather as our newest Väri Brand Ambassador, and with her permission, we share her story.

Could you be a future Väri Brand Ambassador? Do you have a great Väri story to share? If so, please do! Reach out to us at Info@varieyewear.com