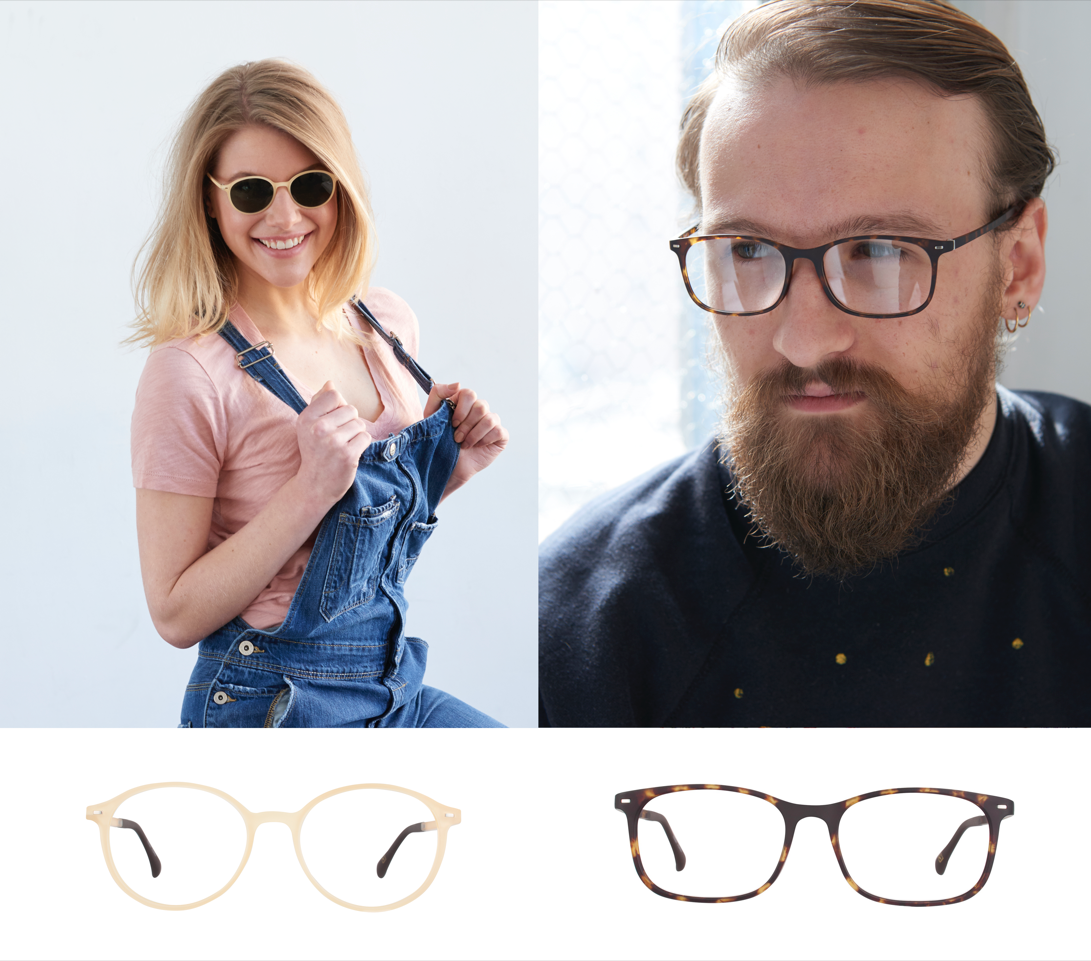 Spectacular Depth of Color & Translucency in Väri's Two Tone Frames the VR8 & VR9
February 12, 2018 – Port Washington, NY – I & Eye Optical, a well-respected, Long Island based eyewear manufacturer and merchandiser with national distribution releases another pair of cool, comfortable and convertible show stopping frames with its VR8 and VR9 styles.
The VR8 and VR9 offer an amazing translucent front with a solid back color which allows for a spectacular depth of color and creates a two-tone aspect from all angles. The color on our TR90 temples is reversed, solid outside with translucent insides. Incredibly light and resilient. This collection is available in Classic Tortoise and a Black Matte/Gun-metal as well as some beautifully bold colorations such as Passion (Lavender), Palomino, Blue-Jean and Ruby Red. Proving that a "hot look" can get even cooler, the VR8 & VR9 styles are also available with Plano G15 polarized lenses.
The shape of the VR8 is a thin modified rounded square with high temples and saddle bridge. The line features a special, proprietary coloring process. Also making heads turn is the VR9, a thin modified P3 round shape. Most P3 shapes are made with a keyhole bridge, but ours has a unique saddle bridge which adds comfort and creates an ultra-modern interpretation of this classic shape. Both frames are made with highest quality TR90 material with our famous soft tactile feel that is temperature neutral and cool to the touch.
A study in contrasts, Väri playfully experiments with boundaries, offering classic shapes, excellent fit, unparalleled comfort and the chance to step outside traditional lines in an exploration of color. Väri is for real people with real vision. For more information on Väri Eyewear and these two styles, contact info@Värieyewear.com or call 516-580-2723. You can also join the conversation and follow Väri on facebook, twitter and Instagram.
ABOUT VÄRI EYEWEAR (A Division of I & EYE OPTICAL) 
Located in Port Washington, NY on the north shore of Long Island, Väri Eyewear, a Division of I & Eye Optical) is a globally successful optical and merchandising company that has always been willing to step outside the lines, to challenge the status quo and create new brand opportunities for stylish eyewear, accessories and impeccable designs.

Väri headquarters serves as an international-liaison exchange for researching, developing, manufacturing and distributing high-quality eyewear. Since 1976, company founders Rich Baum and Clif Browner have developed deep relationships in the eyewear industry with distributors, retailers and other manufacturing, service and supply partners. Their passion for eyewear has led them to build an innovative company with a reputation for excellence and for trend-setting.
With a thorough understanding of optics from every part of the process, the company truly recognizes and understands the optical market, its channels and the consumers that drive its success.
The company's corporate philosophy is based on a solid foundation of operational excellence and they take an intimate approach to every new line they introduce. From composite material selection to the shape, size and color choice for their frames, the founders maintain quality control from prototype development and manufacturing to sales placement, training and fulfillment and place a focus on comfort for the entire Väri line.