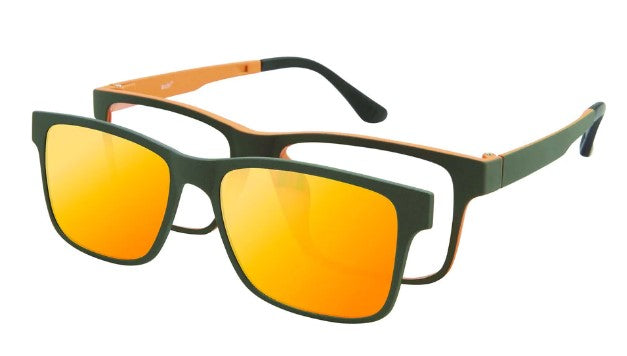 Summer's Hottest Styles: Best-Selling Frames for Every Face
As the sun shines bright, it's time to embrace the season with the trendiest frames flying off our shelves! Whether you're looking for women's, men's, or unisex styles, we've got the perfect frames to suit every face shape and fashion preference. Let's dive into our handpicked collection of summer's hottest frames. 
Women's Frames: 
This summer, ladies are sizzling in our VR-22 in Dark Wine with Gold Trim which adds a touch of elegance and a dash of charm to this time tested frame. This frame's upsweep, modified cat-shaped rectangle frame exudes sophistication. Crafted from our proprietary TR 90 material, this frame boasts durability and lightweight comfort. The form fit saddle bridge, coupled with hypoallergenic Monel temples featuring spring hinges, ensures a pleasantly snug fit and no slippage. Check out our VR-22 frames here.  
Another pick sure to turn heads is our VR-18 in Tort Shell (featured to the left). The VR-18 is a versatile frame offering a modified rectangular shape with rounded edges. Its stainless-steel temples and saddle-shaped bridge deliver both style and comfort. Made from our resilient TR-90 material, this frame is lighter than air yet sturdy. In addition to Tort Shell, the VR-18's captivating color options include Blue Demi, Slate Blue Fade, Lilac Fade and Blue Rose with stylish colors gracefully fading from top to bottom, adding an eye-catching flair to any look. 
And last but not least, the VR-1 in Deep Blue Crystal is a timeless classic, featuring a traditional square shape with rounded corners and a high temple position. This frame is designed to complement most face shapes, making it a go-to choice for fashionable women seeking a versatile and stylish option. For more VR-1 frames click here.  
Men's Frames: 
The VR-17 in Black Fade is the epitome of sophisticated style with its traditional, modified rectangular shape. Its stainless-steel temples and slightly deeper saddle-shaped bridge offer an extraordinary fit and feel. Crafted from our resilient TR-90 material, this lightweight frame is both durable and comfortable, making it a top choice for today's fashion-forward man. Check out more VR-17 frames here.  
Another option, for the man on the go is our VC-2 in Grey Pumpkin with Orange Mirrored Clip shown here on left.  
 
These Väri' VC-2 frames are taken to the next level with these unstoppable clip-ables. Transforming the VC-2 into statement-making sunglasses with the flip of a wrist, these lightweight clips attach with invisible magnets. Each VC-2 frame comes with a corresponding color-mirrored, and polarized lense – in either blue, orange, or gold, depending upon the frame you choose.  This adds a touch of sizzle and style, making them the perfect accessory for sunny summer days. 
The VC-3 is also popular and showcases a rectangular shape and spring hinge design, making it a must-have for modern men. With the magnetic clip, it transforms into stunning sunglasses, combining fashion and functionality effortlessly. The multi-coated mirrored, polarized, and colored lenses coordinate perfectly with the frame color, elevating your summer look.  This frame has an additional clip that further secures the mirrored clip in place for people on the move! Check out additional VC-3 colors here.  
Unisex Frames:  
Looking for a frame that looks great on almost everyone?  Meet the newest member of our Organics Collection, the VR-23. This eco-friendly, BPA-free, and ultra-lightweight frame, ensures all-day comfort. The rounded square shape, constructed from ULTRASON material, boasts high tensile strength and resistance to impact and cracking. Choose from a range of captivating shades, including Shiny Crystal, Shiny Blue, Shiny Black, or Shiny Wine, and enjoy frames that are virtually unbreakable. 
Keeping it gender neutral, the Väri VR-2 Demi Grey/Grey Bottom shown above is always in style!  This VR-2 boasts a classic and sleek rectangular shape with a high temple position, making it an ideal choice for both men and women. Combining style and practicality, this frame is a timeless favorite for those seeking a refined and versatile look. For more color options for the VR-2 click here.  
Another gender neutral option, offering a square shape with a high temple position, the VR-3 is another classic design that suits a wide range of tastes. Its unisex appeal makes it a popular choice for anyone looking for a stylish and enduring frame. 
Embrace the summer vibes with these best-selling eyeglass frames that not only enhance your vision but also elevate your style game. Experience the perfect blend of fashion and functionality with these trendsetting frames that are ready to accompany you on all your sunny adventures. View our collection  online today and find the ideal pair that suits your unique style and personality!  
 
And a note to the trade! 
If you're an independent eye care provider looking to stock up for summer, check out our previous blog here to learn best practices for managing frame inventory.